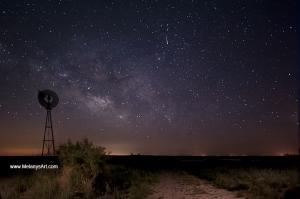 Melany Sarafis' photograph, Night Sky Over Rural Texas, was named Best in Show in the Illuminance photography competition. Illuminance 2015 is a national competitive exhibition featuring photographic work from thirty-two artists. This biennial event provides an opportunity for photographers at all levels to share their artwork. This year's juror is Rixon Reed of Santa Fe's photoeye gallery.

2015 Theme: The Feeling of the Rural Night. From Brassaï's Paris de Nuit (Paris by Night) to Todd Hido's recent body of work of homes and streets after dark, photographers have captured the distinctly different feeling that pervades nighttime. The curtain of darkness can enhance mystery and intrigue, elicit fear or wonder, and create a wide variety of responses that are different from a person's daytime experience.

Join us at The Buddy Holly Center in Lubbock Texas at 3 PM on Saturday, August 15th for a closing reception, award presentation, and gallery talk by juror Rixon Reed.