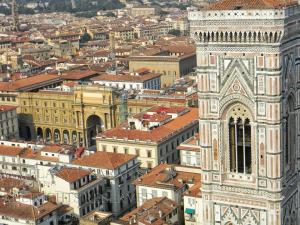 17 July 2013
Our first night in the new hotel was very comfortable. The twin sized beds are comfy, marble floor feels good after being out in the heat all day, and the spotless shower and hot water was very welcomed. Breakfast here was good – Cappuccino, bread with spreadable cheese (I don't know what kind it was, but it was good) fresh fruit, and some yogurt. A great start to the day.

As we headed out for our day, I made a mental note that the Cathedral area, normally packed with tourist, was pretty empty around 0800. I need to go back there early when I have time for photos. We didn't have time this morning; we were heading for the Uffizi! We got to the door 10 minutes before opening, with only a few people in front of us – this is one of the "big" galleries in Florence, and many people wait HOURS to get inside. We were in as soon as they opened, thank goodness we bought the Firenze Card, which gets us in many of the museums free and allows us to skip the ticket purchasing lines. The "with tickets" line that we were in was much MUCH shorter than the ticket purchasers. We beat the crowds and annoying tour groups to many of the exhibits. The highlight for me – Botticelli and his "Birth of Venus" and "Primavera". These are 2 paintings I've admired since being introduced to them in Art History class. My thoughts: They are HUGE, larger than I expected, and the colors aren't as bright/vibrant as I thought they'd be. We also saw the only canvas painting that Michelangelo did (his other paintings were frescos), several Raphael paintings, and a few Caravaggios. Titian's "Venus of Urbino" was out on loan to another museum, to my disappointment. Some of the rooms themselves were works of art; one had mother of pearl all around the tops of the walls and on the ceiling, along with an elaborately decorated tile floor. Tony was starting to whine before we were through "I'm tirrrred!" – GEEZ. I told him "you sure whine a lot", and I think he realized that he was LOL. We finally made it to the exit, which of course leads visitors through a gift shop. I bought a print and coffee cup with Birth of Venus (Venus on the Half Shell) on them. I knew I'd come home with a print of this piece! We headed out, and turned toward Santa Croce Church.

Santa Croce Church was built in 1294-1442, and was Michelangelo's childhood church and now contains his tomb, as well as that of Galileo. We didn't spend a lot of time there, my goals were these 2 tombs, and I got a few other photographs inside. We headed to 67 Via Ghibellina, which was once the entrance to Michelangelo's home. Originally we planned to tour Casa Bounarroti, a museum ran by his nephew's (heir's) descendants, but we were tired and getting hungry.

We found a wonderful "tratorria" a few doors down from Casa Bounarroti, and Oglio Olio e Peppericino was the lunch special (spaghetti with oil, garlic and peppers). This is one of our favorite meals at home, and Tony wanted to try it here – he knows he was in for a treat! It was wonderful and filling, and a bottle of cold water was just what we needed. After lunch, we headed back to the hotel for a little break (nap) before heading to Palazzo Vecchio, and back to the Cathedral for some evening photos.

We decided to have dinner first, and found the #1 rated restaurant on Trip Advisor, a little sandwich shop near the Palazzo. There are lots of meats – many I don't know what they were, cheeses and veggies. I told him to just make us what he likes, and he made 2 different sandwiches for us – HUGE sandwiches. I still don't know what we ate LOL. I think mine had Prosciutto, some cheese and some kind of lettuce with a peppery flavor. Very good.

Palazzo Vecchio is a fortified "old palace" that has served as the town hall, and palace of Cosimo I (de Medici). Groundbreaking was around 1300; enlarging an existing palace to the building it is today. After the Medici tyrants were ran out of Florence, Michelangelo's David was placed in the piazza in front of the Palazzo, a symbol of Florence's victory over tyranny (Goliath). The original was moved in 1873 to the Accademia to preserve it from the elements, and a copy now takes its place. There's a lot of ceiling paintings, and frescoed walls by Vasari; the first Art Historian and not a bad artist himself. The best work of art IMO was a statue by Donatello – a bronze Judith and Holofernes. The surprise of the day was the tower in the palace. My guidebook by Rick Steve's didn't say anything about climbing that tower. We finished our tour and came to another flight of stairs. A guard there asked for our Firenze Cards, scanned them and gave us another ticket, then took down the rope and invited us up. Only about half as high as the Duomo that nearly killed me, this one was pretty easy. We came to a small prison room about halfway up, that held Lorenzo de Magnificent at one time, before he was expelled, and also the crazy monk Savonarola. He preached against the riches and "unholy" art that the Medicis loved. He organized huge bonfires in the square in front of the Palazzo where riches, jewelry, and artworks were burned – even Botticelli got caught up and burned most of his secular paintings ☹ Eventually, he was arrested, executed, and burned in the exact place that his bonfires were. We climbed up to the top and had some good views of the city, but the wall was too tall in many places for good photos. There's a plaque in the square that marks the spot of the bonfires, but we haven't been able to find it. I asked the guard up on top of the tower, and she didn't know either, but radioed to her colleague and found it. We were able to look down from the tower into the square (now most of the tourists were gone) and saw it. She didn't even know it was there! Imagine a Florentine being taught local history by an American! (Thank you Dr Ogus)
After climbing down from the tower, we found the plaque – just a round bronze marker that reads "Here, Girolamo Savonarola and his Dominican brothers were hanged and burned in the year 1498.

Tony said that this was his favorite tour so far – probably because some of the artwork in the palace rooms was dedicated to Greek stories, like the Odyssey instead of biblical scenes.

We stopped by the Cathedral again for more photos on our way back to the hotel. This thing is so tall, and Giotto's bell tower beside it is so tall, that I can't get a shot without serious distortion – and I've quit trying.

We did our usual gelato stop, and found a new place – Leonardo's Gelato to try. Tony decided to go for something he's never had – Fig and mint. I got peach and "kibanana" (kiwi/banana). Mine was very good; he threw his in the garbage without finishing it. It must have been really bad for him to throw away ice cream!

We're back in our room. We really like our hotel, the price is right; the room is spotless and comfortable to come back to after a busy day being a tourist. Something else I've decided today – tour groups are a big pain in my butt! I haven't been on a tour, but there are a LOT of them in the sites. They are rude, inconsiderate, and totally self-absorbed. I'm amazed at how many times I've seen the groups standing in the middle of the road (roads are usually covered with tourists, but cars and busses still drive on them) oblivious to cars coming by. Very irresponsible on the part of the guide. Also, in the sites, I'd think the guide would attempt to keep the group together and out of other's ways, instead they block doors and works of art while listening to the guide.

That's it for day 3. Tomorrow starts early with Accademia and "the" DAVID!